Artist Stuff
My works are primarily in the mediums of song, traditional comics, and printmaking. I dabble in graphic design but only in a very specific application.
A lot of the work that I do centers around relationships, hockey as a team sport, brain devils, aye and all manner of things. I also explore masculinity and fantasies of belonging in a reality that isn't so accomodating. Whether it be comics, music, or another medium, my big thing is the understanding - not necessarily for the sake of those who need to understand, so much as those who need to be understood, by which I usually am referring to myself. Any connection others find is happily circumstantial.
Some samples of my work can be viewed below.
Block Prints
These are lino cuts printed some time in 2018.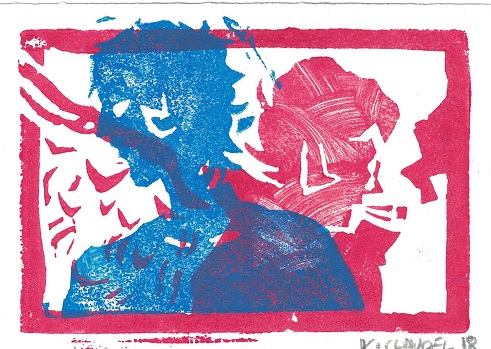 My Devil, My Darling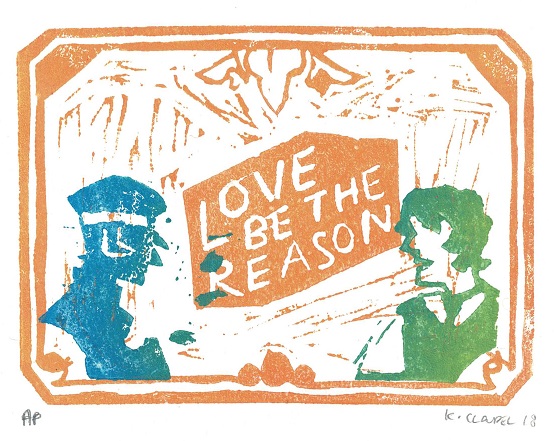 Love Be The Reason (eternal WIP)
Intaglio
This is from around 2019, printed from etched zinc plates.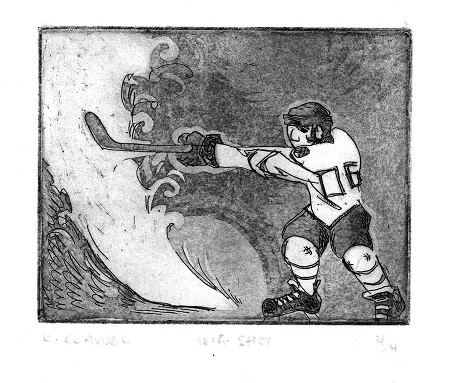 Big Shot
Kitchen Lithograph
I will scan and upload this and my other lithos at... some point (lol) but this is a lithographic print using DIY methods, with coke as etchant, aluminum foil as plate, etc, and for the sake of convenience using a thick oil paint as ink. This is a very messy, labour-intensive, but fun process. I highly recommend looking further into it. There are many ways to do it that can be found online.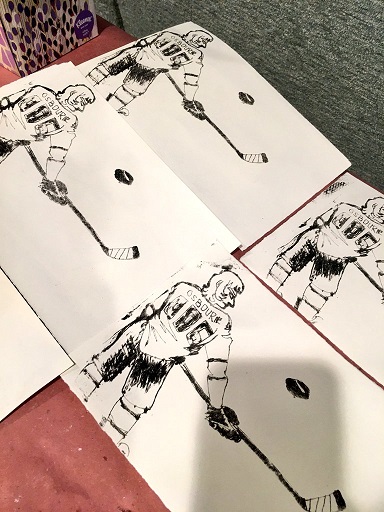 Test Print #2
Comics
I also make comics. My current ongoing series is called Intergalactic Hockey League, which follows 23 year old left-winger Oliver Osbourne and the C-league team he plays for from near-relegation to... well, you'll have to read to find out! It can be read at the link below. I've printed each chapter into zines, which I assemble at home.

Below is some work I did for the CCS 1-week comics workout, which you can do via email.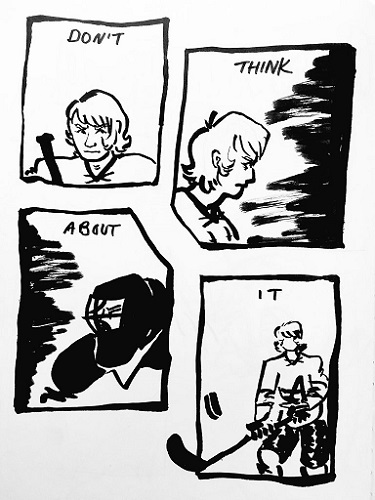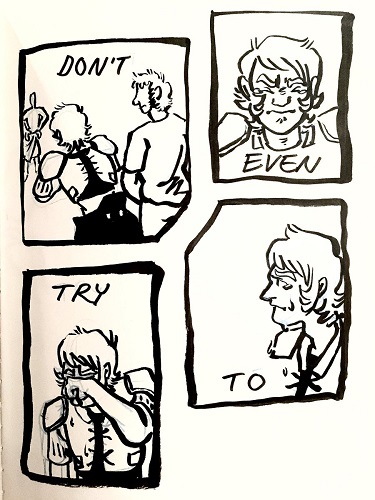 CCS 1-week workout, Day 1
Music
I also write and perform songs. My bandcamp page is listed below, where you can listen to (and purchase!) my music. I write songs primarily to tell stories, usually divorced from my own situation but informed by personal experience, readings, et cetera. While my discography is largely an acoustic/electric guitar and singing kinda deal, ranging from early Mountain Goats type of arrangement to early Billy Bragg (do you see a pattern here?), I plan to expand my sound to include a full band setup using my past drumming experience, some help from friends, and general bullshittery. Please give it a gander!